Whole School Provision Mapping
Special Educational Needs & Disabilities Code of Practice
The School's SEND Register and Provision Mapping
Some students at Oakwood may be placed on the Code of Practice Inclusion Register at different stages dependent on their need. Students can move through or be removed from the register at any time based on their progress.
From September 2014, the way students are listed changes. The previous stages of 'School Action' and 'School Action Plus' are no longer relevant. The new Code of Practice recommends there is a single category known as 'requiring SEN Support'; noted by 'K' on the register. The emphasis is on Outcomes for students and the focus is on what is being offered from the school's own resources to respond to an identified need and to close the learning gap.
All schools are required to identify school support as waves of provision – part of a graduated approach to meeting additional needs. Provision Mapping shows how the whole school plans and supports this graduated approach.
Inclusive Quality First Teaching underpins all learning at Wave 1 which is for all students including those with Special Educational Needs. Wave 2 Provision is 'additional to' and usually forms part of small group work interventions for 'some' students. Wave 3 Provision is 'different from' where interventions are on an individual basis.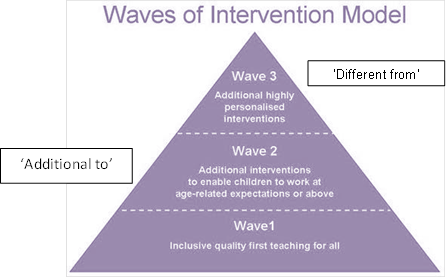 Cognition and Learning
Communication and Interaction
Social, Emotional and Mental Health
Sensory and Physical