Prefects' Welcome
We welcome you to the Oakwood School website. We have been elected as Head Prefects for the 2022/23 academic year at the school.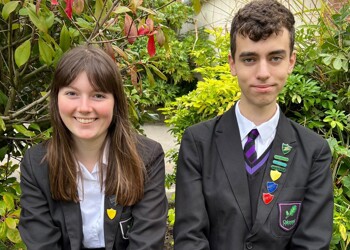 As part of the Student Leadership Team of Oakwood School, one of our important aims is to introduce the Year 7s and provide them with a warm welcome to enjoy our magnificent school and flourish in our fantastic environment. This allows all of our students to feel proud to be part of this incredible school and everything we have to offer here.
As the older students of this school, we can understand the challenging transitioning period from being the oldest in one school to the youngest in another. Our approachable team of Prefects and Mentors always have their door open to support all students throughout their time here. We always set a good example to our school community by demonstrating the 7C's throughout the school day.
Being able to represent our school both internally and externally at several events is something that we all take with great pride. Our school provides a range of opportunities for every year group with dedicated staff who go the extra mile for each and every student by giving encouragement and advice. The school helps and support us for our life after Oakwood setting us up for our future.
We hope you are impressed with our website and with what the school has to offer.
Sophie and Stefano