Unifrog
Please find below instructions on how to register for Unifrog:
1. Firstly, you will need to go to the Oakwood School website and navigate to the quick links for students found in the top left corner of the website.

2. Once on the links page, you must select the box named 'Outlook' to access your school email. For a more detailed version of getting into your student email, click here.
3. Once in your email, look for your Welcome to Unifrog email. You can search for this by typing "unifrog" in the Outlook search bar.

4. In the Welcome to Unifrog email you will be able to click "Begin" to create your password.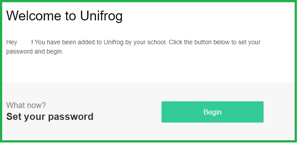 5. On the next screen, create your new password (something memorable) and your Unifrog account will be set up.
---
When returning to Unifrog, remember to access it through the school's homepage, clicking on "Quick Links" in the top left of the page and selecting "Student Links".
From there you'll find the Unifrog logo to take you directly to the site where you will log in with your student email and the password you set up earlier.