Headteacher's Welcome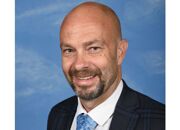 I am proud to welcome you as Headteacher to the Oakwood School website.
Oakwood is a thriving, outward-facing, 11-16 community-centred Secondary School of approximately 1590 students in Horley. Our vision is for all at Oakwood, regardless of background or ability, to have a first-class education that fosters a thirst for innovation, lifelong learning and enquiry. This is encapsulated in our motto of "Achieving Excellence Together" and permeates throughout everything we do here. Whether this be through our exciting curriculum, exceptional pastoral support, pioneering careers programme or the amazing range and breadth of extracurricular activities that we offer. All of which empowers our students to flourish and excel.
Our academic provision is superb. It is delivered through our bespoke teaching and learning philosophy of the Oakwood D.E.A.L., making learning engaging and exciting for all students with a rigorous focus on student achievement. The use of the learning apps through the student links helps us support the students beyond the physical barriers of the school building.
We are a happy, safe and welcoming school community who value people at Oakwood. We believe in respect between the three pivotal influences on a young person's education: teachers, students and, most importantly, parents. Support from our parents is one of the principal ways through which we can ensure that each individual child develops their own unique skills and talents to their full potential. Everything we do is undertaken with consideration to the equality, diversity and inclusion of all our students, delivered through the ethos of the 8 Cs: Compassion, Community, Communication, Clarity, Courtesy, Collegiality, Consistency… all underpinned by a high level of Challenge.
We understand that the elements of student, school and family are vital. In order for us to provide the best for our students, good communication between these is fundamental and highly valued. Although, in this day and age, electronic communication is used widely for effective information flow, there is no substitute for contacting a person directly. We warmly encourage you to do this if the school website does not provide the information you require.
I opened with how very proud I am to be Headteacher of Oakwood School. This is my local school and both my step-children thrived here. I am hugely invested in our school and local community and will work tirelessly in order to give the young people of Horley the very best education possible.
Mr J Gladstone
Headteacher