Oakwood Expansion Progress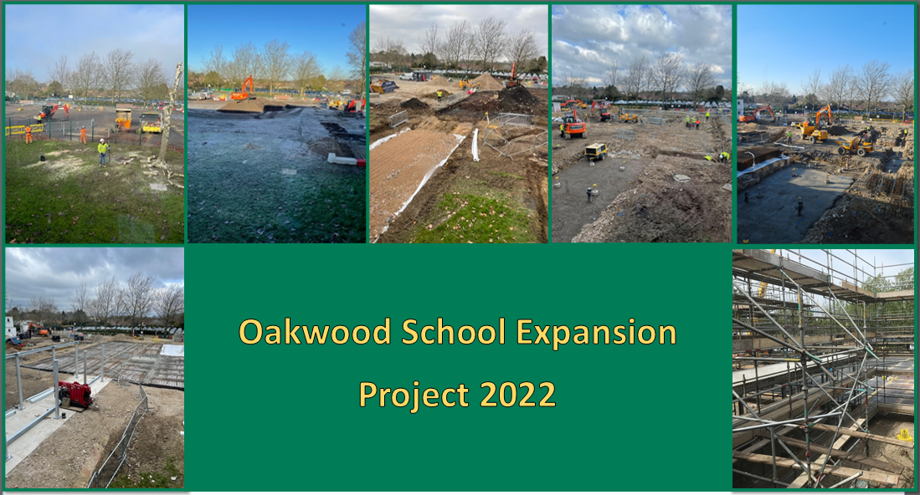 On Monday 17th January 2022 work began on building an expansion to the existing school building, the expansion will allow for extra classrooms and work spaces to support our growing school community.
Please view information below regarding the progress made on the latest Oakwood site expansion project.
Countdown to Handover
Drone Flight
July 8th 2022
May 16th 2022
Progress within the last week:
Commenced 1st wall panel installation. Great progress within the week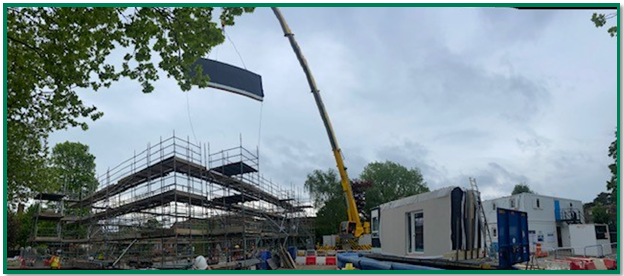 Surrey college student tour on Monday 16th May
Levelling work successfully diverted out of school hours to release pad commencement and Stevens commenced foundations excavation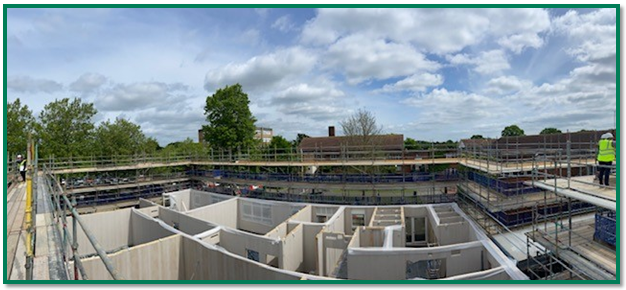 Acoustic screens have been erected against fencing facing the hall. To assist with Exams commencing next Monday
School community pond (School , MS and Stevens). Commenced excavation of the pond in Forestry area. Builders will further support throughout the year collaboratively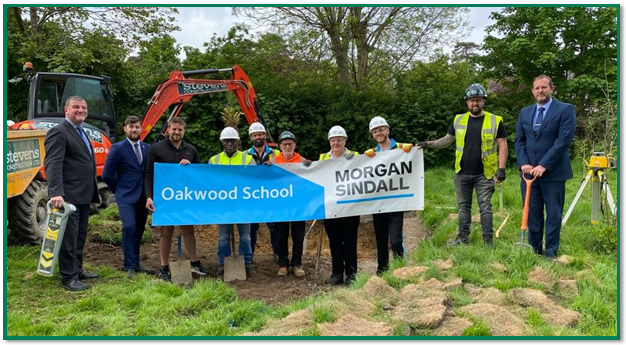 Oakwood School governors site tour held Tuesday.
Chichester college group lecturers had site tour and student tours arranged for the 25th May.
Key Targets next week:
The site team will communicate daily and be respectful to school exams commencing next week. (acoustic panelling onsite to assist)
Continuing with steel beam installation and first Floor cassettes
Continuing foundations for inclusion block with excavation and concreting. The site team will be considerate to exam periods

May 6th 2022
Progress within the last week:
Scaffold erection complete, completed all preparation works for Crane to arrive Monday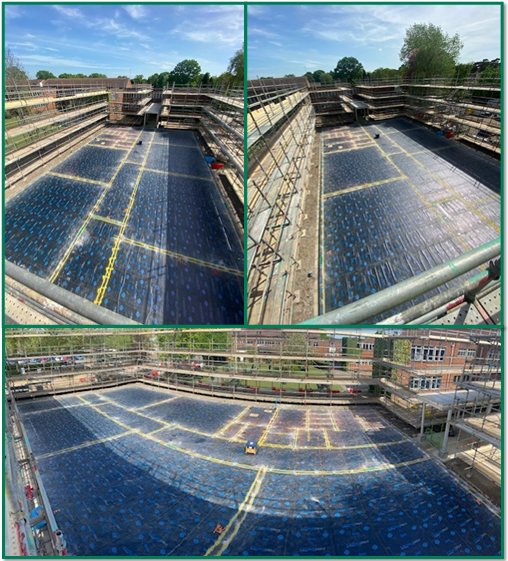 Diamond drilling and concrete slab removed and cleared in preparation for vacuum excavation Monday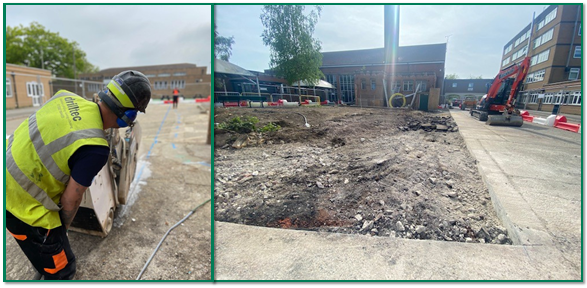 Key Targets next week:
Commence installation of the Ground floor wall panels and propping with 3 deliveries throughout the week.
Three electrical cables will be diverted on Wednesday

The current tasks consist of;
Completing scaffolding

Installing a waterproof membrane that will be laid onto the base of the building.

On Monday 9th May a crane will arrive on site to lift building panels into place.
April 19th 2022 April 6th 2022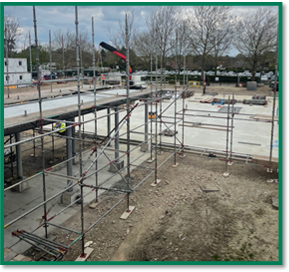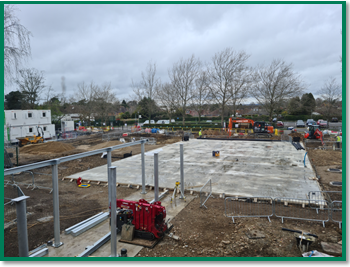 March 31st 2022 March 25th 2022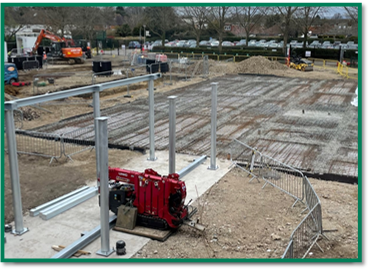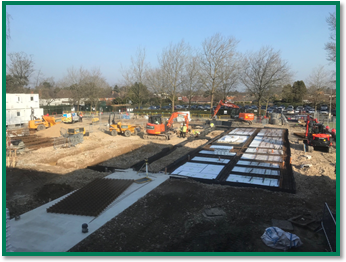 March 16th 2022 March 11th 2022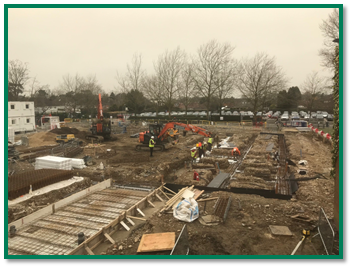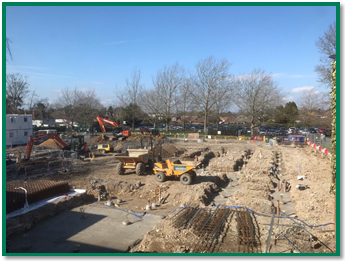 March 7th 2022 - Following works are taking place;
Engineers to complete Pile Integrity testing for piles and update QA inspections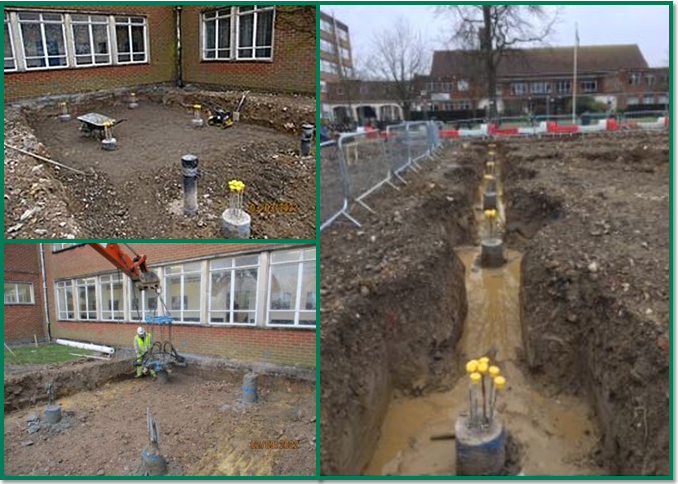 Continue foul drainage connections

Groundworker to continue with Muckaway removal Soil stockpiles
Groundworker to continue excavating Groundbeams
Complete setup and furniture fit out of our new site cabins (Monday and Tuesday)

Insulation for Ground slab to be delivered
Steel fixers to continue to make steel re-enforcement cages

February 28th 2022 - Following Works took place;
Groundworker to Expose Piles and reduce to carry out Pile Integrity tests

MS project engineer to carry out Quality inspections to update As-built records
Complete setup and furniture fit out of our new site cabins

Continue foul drainage
Groundworker to continue with Muckaway removal of Tarmac, Soil stockpiles
Throughout the week continuation deliveries of Stone for Groundworker

February 14th 2022- Following works took place;
Commence Piling via SFA piling rig (Acoustically + environmentally friendly form of piling)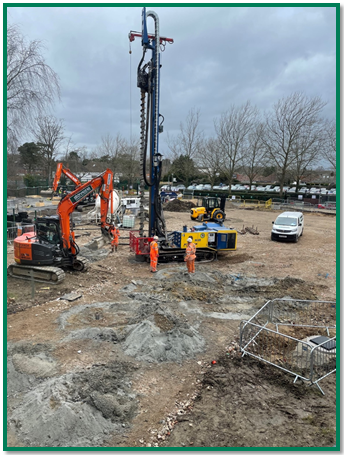 Install more permanent site offices via crane

Continue storm drainage along with ducting for street lighting etc
Groundworker to continue with Muckaway removal of Tarmac, Soil stockpiles
Throughout the week continuation deliveries of Stone for Groundworker and concrete for Piling rig

February 7th 2022- Following works took place;
Groundworker to continue with Muckaway removal of Tarmac, Soil stockpiles and deliveries of Stone (Complying within delivery restrictions)

Continue with Site strip to correct design formation levels and build-up with Stone compacted to design criteria
Continue with building up with stone in compacted layers Pile Mat Area
Continue with Zone 2 Carpark build up prepare for our office foundations

Continue with Drainage for New building

Carry out CBR testing within our site (ensures the existing ground has achieved design performance criteria)

The temporary gates will be installed alongside our Gatehouse to front of Balcombe road throughout next week

January 31st 2022 - Following works took place;
Groundworker to continue with Muckaway removal of Tarmac, Soil stockpiles (Complying within delivery restrictions)

Continue with Site strip to correct design levels and build-up with Stone compacted to design criteria

Continue with Drainage installation to carpark and prepare for our office foundations
Continue with Drainage for New building
Carry out CBR testing within our site (ensures the existing ground has achieved design performance criteria)

Vacuum excavator (small lorry) on site Tuesday to safely excavate around services (will not operate during school breaktimes)
Continue with service diversions as planned

Our Temporary gates will be installed alongside our Gateman to front of Balcombe road throughout next week
January 17th 2022 - Building work commences