Special Educational Needs and Disabilities (SENDs) Policy
All children, irrespective of their special needs, are entitled to equal opportunities, access to the curriculum and social integration with their peers. The Access to Learning Faculty helps to meet the additional needs of identified young people through advice and support to staff, students and parents.
Oakwood School recognises the SEND Code of Practice 2014 and the provision made by the School will not be less than that defined therein.

Students on the SEND Code of Practice Register will be entitled to arrangements that are "additional to and different from" those in place for the majority of students.
What are special educational needs (SENs) or a disability?
At our school we use the definition for SEN and for disability from the SEND Code of Practice (2014). This states:
SEN: A child or young person has special educational needs if he or she has a learning difficulty or disability which calls for special educational provision to be made for him or her. A learning difficulty or disability is a significantly greater difficulty in learning than the majority of others of the same age. Special educational provision means educational or training provision that is additional to, or different from, that made generally for others of the same age in a mainstream setting in England.
Disability: Many children and young people who have SEN may have a disability under the Equality Act 2010 – that is '…a physical or mental impairment which has a long-term and substantial adverse effect on their ability to carry out normal day-to-day activities'. This definition includes sensory impairments such as those affecting sight or hearing, and long-term health conditions such as developmental coordination disorder (dyspraxia), asthma, diabetes, epilepsy, and cancer. ADHD and Dyslexia are also recognised as difficulties under this Act.
Key Roles and Responsibilities
SENCO – Joanne Wright

Contact details: jwright@oakwood.surrey.sch.uk or telephone 01293 785363
The SENCO has the day to day responsibility for operation of the SEND policy and co-ordination of specific provision made to support individuals with SEND, including those who have Education and Health Care plans (ECHP).
The Special Needs Co-ordinator (SENCO), in collaboration with the Headteacher and Governing Body, takes responsibility for the operation of the SEND policy and co-ordination of special needs provision, working closely with staff, parents, carers and other agencies. The SENCO also provides professional guidance to colleagues to secure high quality teaching for learners with SEN.

Aims and Objectives
Aims
At Oakwood School all pupils, regardless of their needs, are provided with inclusive teaching which will enable them to make the best possible progress and in school we feel that they are a valued member of the wider community
To identify, at the earliest possible opportunity, barriers to learning and participation for students with SEN.
To make reasonable adjustments for those with a disability by taking action to increase access to the curriculum, the environment and to printed information for all.
To ensure that children and young people with SEN engage in the activities of the school alongside students who do not have SEN.
To ensure that every learner experiences success in their learning and achieves to the highest possible standard
To reduce barriers to progress by embedding the principles in the National Curriculum Inclusion statement:https://www.gov.uk/government/collections/national-curriculum
To request, monitor and respond to parent/carers' and students' views in order to evidence high levels of confidence and partnership.
To ensure a high level of staff expertise to meet student need, through well-targeted continuing professional development.
To use our best endeavours to secure special educational provision for students for whom this is required, that is "additional to (Wave 2 – group work) and different from" (Wave 3 1:1 individual support) which are provided within the differentiated curriculum, to better respond to the four broad areas of need as outlined in Code of Practice (p 97-98):
1. Communication and interaction,
2. Cognition and learning,
3. Social, emotional and mental health,
4. Sensory/physical.
To support students with medical conditions to achieve full inclusion in all school activities by ensuring consultation with health and social care professionals in order to meet the medical needs of students.
To work in cooperative and productive partnership with the Local Authority and other outside agencies, to ensure there is a multi-professional approach to meeting the needs of all vulnerable learners.
Objectives
To ensure a clear process of identifying, assessing, planning, providing and reviewing students who have special educational needs and disabilities with students and their parent/carers at the centre.
The school follows the SEND Code of Practice 2014: 0 to 25 years' graduated approach with regard to the identification, assessment and review of learners with special educational needs. The four key actions are: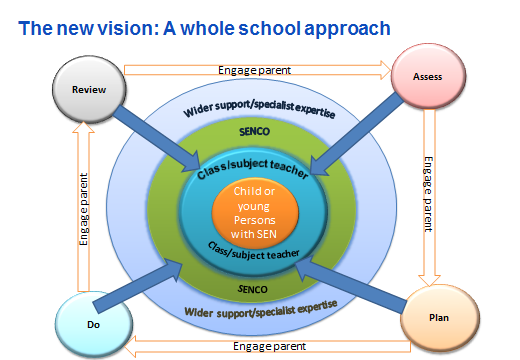 In line with the school improvement we continue to strive for 80% expected progress, 40% better than expected progress for all teaching groups for SEN students.
To develop whole school provision management of universal, targeted and specialist support for students with SEND.
To deliver training and support for all staff working with students with SEND, which develops our practice within the guidance set out in the SEND Code of Practice, July 2014.
Identification of Needs
At Oakwood School we identify the needs of each student by considering the needs of the whole child. This is done at transition, liaising closely with the primary school and through attainment and ability screening such as literacy testing and Cognitive Assessment Tasks (CAT) testing in the first term of Year 7. Throughout a students' school career regular monitoring and tracking of progress can determine whether a student needs extra support.
The four main areas of need as per the SEN Code of Practice (2014) are:
Communication and interaction
Children and young people with speech, language and communication needs (SLCN) have difficulty in communicating with others. This may be because they have difficulty saying what they want to, understanding what is being said to them or they do not understand or use social rules of communication. The profile for every child with SLCN is different and their needs may change over time. They may have difficulty with one, some or all of the different aspects of speech, language or social communication at different times of their lives.
Support for learning difficulties may be required when children and young people learn at a slower pace than their peers, even with appropriate differentiation. Learning difficulties cover a wide range of needs, including moderate learning difficulties (MLD), severe learning difficulties (SLD), where children are likely to need support in all areas of the curriculum and associated difficulties with mobility and communication, through to profound and multiple learning difficulties (PMLD), where children are likely to have severe and complex learning difficulties as well as physical disability or sensory impairment. Specific learning difficulties (SpLD), affect one or more specific aspects of learning. This encompasses a range of conditions such as dyslexia, dyscalculia and dyspraxia.
Social, emotional and mental health
Children and young people may experience a wide range of social and emotional difficulties which manifest themselves in many ways. These may include becoming withdrawn or isolated, as well as displaying challenging, disruptive or disturbing behaviour. These behaviours may reflect underlying mental health difficulties such as anxiety or depression, self-harming, substance misuse, eating disorders or physical symptoms that are medically unexplained. Other children and young people may have disorders such as attention deficit disorder (ADD), attention deficit hyperactive disorder (ADHD) or attachment disorder.
Some children and young people require special educational provision because they have a disability which prevents or hinders them from making use of the educational facilities generally provided. These difficulties can be age related and may fluctuate over time. Many children and young people with vision impairment (VI), hearing impairment (HI) or a multi-sensory impairment (MSI) will require specialist support and/or equipment to access their learning.

The school follows the SEND Code of Practice 2014: 0 to 25 years' graduated approach with regard to the identification, assessment and review of learners with special educational needs. The four key actions are:
| | |
| --- | --- |
| Assess: | The class teacher and SENCO/Deputy SENCO should clearly analyse a learner's needs before identifying a child as needing SEN support |
| Plan: | Parents must be notified whenever it is decided that a learner is to be provided with SEN support |
| Do: | The class or subject teacher should remain responsible for working with the child on an ongoing basis. Where the interventions involve group or 1:1 teaching away from the main teacher, he/she still retains responsibility for that learner's progress |
| Review | The effectiveness of the support should be reviewed in line with the agreed date. |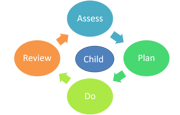 What is done and by whom?
Teachers are expected to adopt Quality First Teaching. Reasonable adjustments to their practices are expected with them being encouraged to adopt a variety of strategies and approaches in order to engage the learner.
Teachers should provide differentiated expectations for all students and good quality personalised teaching. This is the first step in responding to students who may have SEN.
Teachers are responsible and accountable for the progress and development of students in their class, including where students access support from teaching assistants or specialist staff.
Progress is tracked during regular data collection cycles and reported back to parents
The quality of teaching for all pupils is monitored through learning walks and formal lessons observations where feedback and support is then given to staff.
Regular INSET and training is used to develop teachers' understanding and knowledge of strategies available to identify and support vulnerable pupils and to increase their knowledge of the types of SEN most frequently encountered.
Training is also provided by outside agencies to support SEN awareness.
Parents are kept informed of their child's development and the circumstances in which they are being monitored.
Parents are encouraged to share information and knowledge with the school.
Parents' evenings are used to discuss the progress being made by children.
Targets and expectations are regularly discussed
How is the decision made to place students on the SEN register?
Where concerns persist or students are not making expected progress on the basis of accumulated evidence, they are referred by class teacher, Head of Faculty, tutor or Year Group Leader to ALF and placed on the Special Educational Needs Register. Parents are consulted before this decision is made. This is only after school staff are confident that there is an underlying difficulty that remains despite "Quality First Teaching".
At this point Wave 2 intervention would be put in place which is either in class support, small group intervention or 1:1 support.
Where students' have higher level needs the school will work in partnership with outside agencies (Wave 3) to assess the student in order to get the most appropriate support possible.

How are parent, families, children and young people involved in this process?
Oakwood School prides itself on close home school liaison. This is vital to ensure the correct support is available to students. Parents/ carers are invited to regular parents' evenings throughout the year, these occur after the most recent report is sent home.
All students will have individual targets set which are regularly reviewed and updated and then sent home for parents and carers. The SENCO is available in school if parents/carers need to speak to her.

Requesting an Education, Health and Care needs assessment
Where, despite the school having taken relevant and purposeful action to identify, assess and meet the special educational needs of the pupil, the pupil has not made expected progress, the school may consider requesting an Education, Health and Care needs assessment. This will occur where the complexity of need or lack of clarity around the needs of the pupil are such that a multi-agency approach to assessing that need, planning provision and identifying resources, is required. The EHCP is gradually replacing the Statement of Special Educational Needs, although it involves a different process.
The decision to make a referral for an EHCP will be taken at a progress review. The application for an EHCP will combine information from a variety of sources including:
Parents
Teachers
SENCO
Social care
Health professionals
Managing the needs of students on the SEN Register
When a student is placed on the SEN register their progress is monitored closely, any intervention is logged and a review takes place of the impact the intervention has had on the pupil's progress. Decisions are made as to the most appropriate interventions for the student given the nature of their needs/difficulties; this is carried out using the Assess, Plan, Do and Review cycle.
The nature of the different interventions is shown on the whole school provision map. The provision map shows waves of intervention from quality first teaching at Wave One to more intensive interventions at Wave Two and Three.
Outside agencies may become involved if a student continues to make little or no progress despite considerable input and adaptations. The external specialist may act in an advisory capacity, or provide additional specialist assessment or be involved in teaching the students directly. The student's individual targets will set out strategies for supporting the students' progress. These will be implemented, at least in part, in the normal classroom setting.
The SEN register is reviewed throughout the course of the year to make sure students are appropriately placed on it.

Supporting parents/carers and young people
Parents and pupils are supported and guided by the school through a variety of means.
These may include:
The SEN Information Report –available on school website
(14 questions) - available on the school website
Surrey's Local Offer which includes other agencies who provide a service found on Surrey website www.surreylocaloffer.org.uk
Monitoring and evaluation of SEN
The quality of provision within the school is monitored through lesson observations, learning walks and the close monitoring of interventions. Data analysis also informs the school where support and possible adjustments to practice need to be made.
Pupil progress is monitored on a termly basis in line with the SEN Code of Practice.
SEN provision and interventions are recorded on an individual provision map, which are updated when the intervention is changed. These interventions are monitored and evaluated at least termly by the SENCO and information is fed back to the Senior Leadership Team and the governing body. This helps to identify whether provision is effective.
Parents are also encouraged to provide feedback during progress meetings and parents evenings. Some individual cases may be discussed with external agencies.

The SENCO also has an action plan which reviews practices over the year. Areas for development are identified and included in the plan to further support pupils with SEN.

Training and development
We aim to keep all staff up to date with relevant training and developments in teaching practice in relation to the needs of students with SEN.
The SENCO attends relevant SEN courses and facilitates/signposts relevant SEN focused external training for all staff. The SENCO with the Senior Leadership Team ensures that training opportunities are matched to school development priorities

Reviewing the SEN Policy
This policy will be reviewed annually (or sooner in the event of revised legislation or guidance) by the SENCO and the Governors.

Adopted by Governors on:
Review date: December 2021