Paris 2020 - Daily Blog
Day 1 - Monday
After an early start, we made our way to Folkestone to the Eurochunnel and after a quick "crossing" arrived in France, to lots of rain.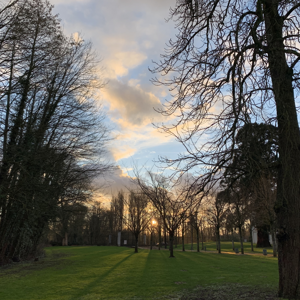 We made very good time and arrived at the Chateau a little earlier than expected. Everyone settled into their rooms and unpacked before going off to dinner. After dinner, the students were taken on a tour of the site before a game of "Snapshot" which involved a lot of running around!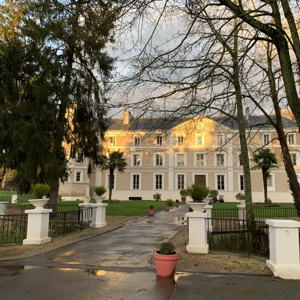 By this time the early start was beginning to show so after a little free time everyone retired to their rooms in time for an early(ish)night. Tomorrow we go in to Paris!
Day 2 - Tuesday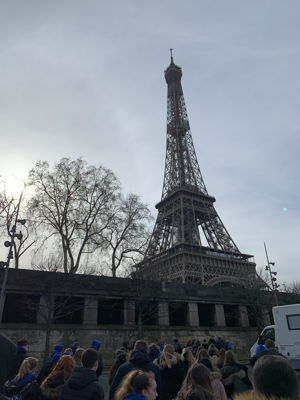 After an early start, and tasty breakfast, the group left the Chateau, in the sunshine, and managed to get through the heavy Paris traffic to park near the Eiffel Tower mid-morning. We made our way up to the second floor and were rewarded with some amazing views.
Once we made our way back down again we headed to the coaches where we collected our packed lunches before boarding a bateaux for a trip down to River Seine.
Once we were back on dry land we headed back to the coaches for a tour of the city en route to Montmartre. This included a lovely drive down the Champs Elysee and a circuit of the Arc de Triomphe, as well as other highlights of the city, before arriving at our destination and the climb up to Sacre Coeur.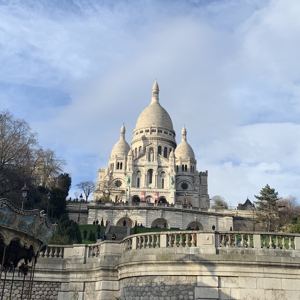 Once again the group took in some wonderful views before sampling a local crepe and a walk through the Place du Tertre before returning to the coach for the drive back to the Chateau.
We arrived back in the dark and headed straight for dinner. It was a long day and the students were tired so it was early to bed.
A great day in Paris today and now looking forward to market day and Fontainebleau tomorrow.
Day 3 - Wednesday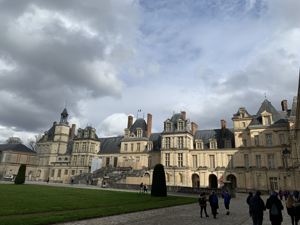 A slightly later start this morning as we were staying more local and this meant a leisurely breakfast before making our way to Melun for market day. It is only a small market but it was an opportunity for the group to get any souvenirs they might want.
Following the market visit, the group headed to the Chateau de Fontainebleau where we had our packed lunch and then did a trail around the grounds (finding answers to questions written in French) before heading inside this historic and beautiful Château.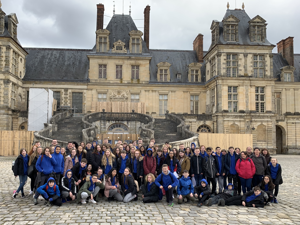 Our third stop of the day was the bowling alley where the whole group bowled and Mr Sims was beaten to the highest score of the day by Louie F who won with 120 points. Well done Louie!
We then headed back to base and after dinner played some games before going back to our rooms to complete some of Mrs Stanton's trip workbook. There will be a prize for the best one.
Day 4 - Thursday
We were up fairly early this morning as it is Disneyland day!
Unfortunately, it rained for most of the day but this didn't dampen the spirits of the group.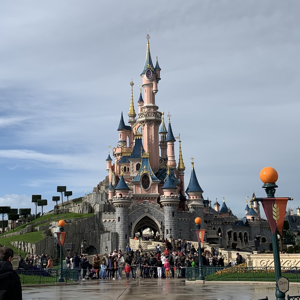 It proved to be very wet but everyone had a great day and thoroughly enjoyed themselves.
After making our way back to the Chateau everyone got back to their rooms to change in time for dinner, and the opportunity to sample the French delicacy of escargot before heading into the last night disco.
Then there was just time for some packing before bedtime.
Tomorrow we make our way home.
Au revoir France, you've been great!!