Design Technology
GCSE Results 2022
| | Food & Nutrition | Design & Technology |
| --- | --- | --- |
| 9-7 | 10% | 16.7% |
| 9-5 | 46.7% | 47.2% |
| 9-4 | 60% | 61.1% |
| 9-1 | 93.3% | 97.2% |
| | Hospitality & Catering |
| --- | --- |
| Entries | 25 |
| Level 2 Distinction* | 0 |
| Level 2 Distinction | 0 |
| Level 2 Merit | 6 |
| Level 2 Pass | 5 |
| Level 1 Pass | 11 |
| U | 1 |
2022/2023 teaching staff: Mr N Garrett, Mr R Taylor, Mrs K Makey, Mr A Kalam, Mrs C Munanura, Mrs G Obee, Miss P Kennedy and Ms A O'Leary.

Follow us on twitter @DesignOakwood
Within Design Technology we look to develop creative and practical skills to help solve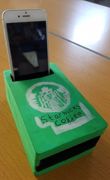 the issues that affect the world we live in. Through the development from basic skills in year 7, covering topics associated to the environment in year 8 and looking at the world of fashion and trends year 9, we develop a well rounded understanding of the subject and the world around us. Students develop understanding and skills within the same format and structure as the GCSE, building their confidence and ability to work with wood, metal, plastic, textiles, graphics and electronics. We develop skills over the three years ranging from basic hand skills through to using machinery and CAD/CAM in every year.
Food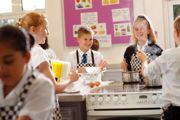 Through students' food lessons they cover the same topics as Design Technology, but with a focus on food skills, environmental issues and food choices and science. We develop understanding through practical lessons to get all students practiced at following recipes, using a wide range of kitchen equipment and explore foods from all seasons and from around the world.
Faculty
Design Technology
Head of Faculty

Mrs G Obee
Contact for more details of Design Technology curriculum

KS3 Specification

Year 7

Resistant Materials

Computer game maze: Skills – introduction to 2D Design and scratch to create a maze game.

Tangram puzzle, frame and packaging: Skills – basic workshop health and safety, marking out, cutting, shaping and finishing, wood joints and Graphics.

Aluminium T-light holder: Skills – Marking out, cutting shaping and finishing metal.

Alarm: Skills – Introduction to electronics and user centred design.

Non Resistant Materials

Textiles phone sock: Appliqué, hand stitching.

Food skills: Practical - Fruit salad, French bread pizza toast, Oat cookies, Mediterranean Past

Food health and safety, Fruit crumble, Fruit muffins, Vegetable Couscous

Year 8

Resistant materials

Eco Torch: Development of electronics, Ergonomic design and make.

Wind Turbine Challenge: understanding green energy, team work, learning through experiments.

Upcycled Photoshop pen pot: Introduction to Photoshop.

Acoustic Speaker: development of wood working skills to increase creativity and independence.

Non Resistant Materials

Bag for life: skills

Food Provenance and Seasonality: Practical's – Dutch apple cake, Spaghetti bolognaise, Seasonal Soup or Cheese cake, Fresh Pizza from scratch.

Food preservation and waste : Practical's - Sausage hot pot, Salsa and Tortilla chips

Year 9

Resistant Materials

Pewter casting

Promotion

Time Challenge

Architecture CAD modelling

Non Resistant Materials

Fabric design

Food choices: practical's – Cajun Chicken, Vegetable Burrito, Free from brownie, Swiss roll, Vegetable Lasagne

Food science: Practical's – Naan Bread, Bread rolls, Yeast Experiment, Butterscotch Tart.

KS4 Specification

We can offer up to 5 GCSE for students to take in year 10 and 11. Allowing students to specialise in an areas of Design technology that best suits their skills and interests. They will have 6 hours every 2 weeks which will be split between developing skills and project work and preparing for the exam at the end of year 11.

Design Technology

Design Technology is the perfect course for those that enjoy their time in the workshop, designing practical solutions to issues, exploring the wider world of Design Technology and the impact it and we have on the world around us. GCSE Design and Technology will prepare students to participate confidently and successfully in an increasingly technological world. Students will gain awareness and learn from wider influences on Design and Technology.

Written Paper

Section A – Core technical principles (20 marks)

A mixture of multiple choice and short answer questions assessing a breadth of technical knowledge and understanding.

Section B – Specialist technical principles (30 marks)

Several short answer questions (2–5 marks) and one extended response to assess a more in depth knowledge of technical principles.

Section C – Designing and making principles (50 marks)

A mixture of short answer and extended response questions.

NEA

Students are given a starting point where they then need to find a clear problems within the starting point to try and solve through a practical design project.

Assessment criteria:

Identifying and investigating design possibilities

Producing a design brief and specification

Generating design ideas

Developing design ideas

Realising design ideas

Analysing & evaluating

Graphic Communication

Graphic Communication follows the Art and Design GCSE structure and allows students to develop their practical skills in a more creative way. Each student will create a personal portfolio of work that will allow them to explore a wide range of areas and continue to develop new skills.

Component 1: Personal Portfolio - 60% of the qualification this runs throughout the course up to the start of component 2. These portfolios demonstrate the development of a student's skills and understanding of the subject.

Component 2: Externally Set Assignment – 40% of the qualification. Students to develop and explore ideas that culminates in a 10 hour sustained focus period of a number of days, where they will demonstrate the skills developed through component one.

Food preparation and Nutrition

The WJEC Eduqas GCSE in Food Preparation and Nutrition equips learners with the knowledge, understanding and skills required to cook and apply the principles of food science, nutrition and healthy eating. It encourages learners to cook, enables them to make informed decisions about food and nutrition and allows them to acquire knowledge in order to be able to feed themselves and others affordably and nutritiously, now and later in life.

Component 1; written paper looking at the Principles of Food Preparation and Nutrition.

| | |
| --- | --- |
| % of GCSE | Duration |
| 50% | 1hr 45 min |
Areas of Content
1. Food commodities
2. Principles of nutrition
3. Diet and good health
4. The science of food
5. Where food comes from
6. Cooking and food preparation
Component 2 Food Preparation and Nutrition in action (Non-examination assessment)
| | | |
| --- | --- | --- |
| % of GCSE | Assessment one | Assessment two |
| 50% | Food science experiment focusing on the scientific underlying the preparation and cooking of food | Prepare, cook and present dishes for a menu. Demonstrating learners knowledge, skills and understanding in relation to the planning, preparation, cooking and presentation of food |
Hospitality and Catering Level 1/2 award
Hospitality and Catering focuses on how every area of the industry works. Students will gain a greater understanding of everything from the structure in different establishments to Healthy and safety laws and expectations.
Component one: Hospitality and Catering industry
This unit is externally assessed. The on line external assessment will be available in the June of each year. The specification for the external assessment is as follows:
| | |
| --- | --- |
| Marks | Duration |
| 90 | 90 minuets |
Component two: Hospitality and Catering in action
This unit is internally assessed:
Research, plan and cook two dishes demonstrating your practical cooking skills.
The assessment theme will be set by the exam board and students will be expected to create two dishes that fit the brief and demonstrate their skills.